The P&H Story
P&H bows was started in South London by two British engineers, Raymond Parkyns and Terence Hubble.
Together they applied innovation and engineering knowledge to the first P&H fibreglass bows and in fact these were some of the first composite bows available at the time. Innovation has been at the heart of P&H from the beginning and the company was later granted patents for its unique re-hairing system.
Pictured (right): Founding member, Ray Parkyns, in the early days of P&H at the South London factory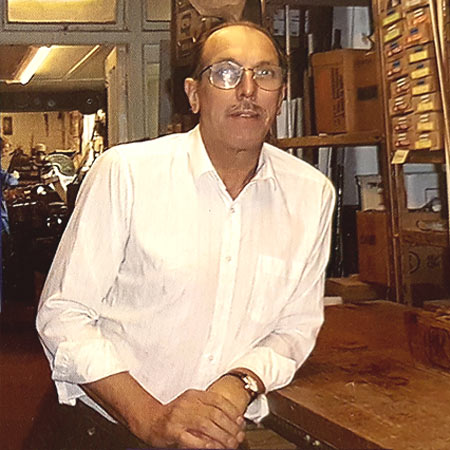 Manufacturing
The manufacturing of the bow sticks was moved to India some years ago as it became uneconomic to continue in South London. Today they are made by a small and skilled workforce who produce consistent quality bows using bespoke tooling designed and developed in the UK. The unique self-rehairing system bow hanks are still made in the UK.
In 2016 Ray Parkyns sold the business to Stentor Music Co Ltd, leading manufacturer of violins and orchestral stringed instruments. The two companies share the vision of consistent quality and affordability.